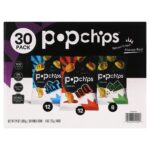 Popchips Variety Box (30 Pack)
$24.99
Description
If you're a fan of delicious chips for general snacking would have alongside lunch or dinner,
then you'll want to check out the Variety Box (30 pk.). Popchips are always real,
never fried, mouthwatering potato chips that have an exceptionally long shelf life and are a wonderful snack to keep around the house or office.
How Long Do Potato Chips Last?
Not all potato chips are created equal, especially when it comes to organic potato chips or protein chips.
Popchips are not only carefully made, but they are carefully sealed so that customers can enjoy keeping them around for an entire year on the shelf.
So when you're ready to tear open a bag anytime of the year, you will enjoy crisp potato chips that are bursting with flavor.
How Many Different Flavors of Popchips Are There In The Popchips Variety Box?
This Popchips variety pack has three different flavors for you to choose from.
They are sea salt, barbecue and sour cream and onion.
All of the flavors are certified kosher and are made to be gluten-free.
Thanks to the thirty bags that come in the package, you will have plenty of variety on hand to meet the needs of a busy household,
school classroom, office break room and more. Thanks to the variety of Popchips,
you can also use the individual bags to resell at convenience stores, vending machines, food trucks and food carts.
What is a Popchip?
Popchips are unique type of potato chip that is made without using a friar of any kind.
Instead, are heated in a pressurized chamber and they quickly released so that there is a distinct pop when they come out.
Not only does this give them their shape and texture, but it also means that are not loaded with grease.
Once they come out of the oven, they are massaged with a variety of seasonings and spices.
So if you're in the mood for a delicious snack that you can feel good about eating, be sure to grab this variety pac
---
Description
Popchips Variety Box (30 Pack)
30ct variety pack
non gmo & gluten free
100 calories per bag
Additional information
| | |
| --- | --- |
| Food Form | Chips |
| Brand | popchips |
| Assembled Product Weight | 16.64 lb |
| Manufacturer | popchips |