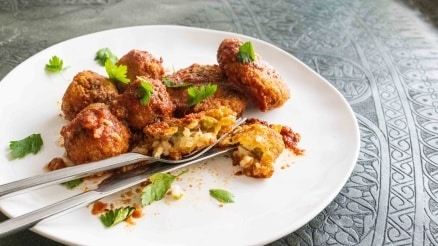 RICE MEATBALL RECIPE
RICE MEATBALL RECIPE
COOKING TIME : 15 Min.
PREPARATION : 5 Min.
FOR HOW MANY PERSON : 4
DIFFICULTY : Moderate
CONTENTS :
2 glasses of water
1/2 onion
1 clove of garlic
1 teaspoon salt
1 cup of peas
Sunflower oil
FOR THE SAUCE;
1 tablespoon of tomato paste
1.5 cups of water
1 teaspoon of sugar
1 pinch of salt
1 teaspoon of thyme
1 teaspoon paprika
*To make Rice Meatball, boil 1 glass of rice in 2 glasses of water until the water is gone.
*Add half the grated onion and 1 clove of mashed garlic on the boiled rice. Mix it all well, add 1 teaspoon of salt.
*Add 1 cup of peas and mix again.
*Add sunflower oil to the frying pan and turn on the bottom of the stove.
*Make meatballs from rice, either as balls or as classic meatballs.
*Fry the meatballs in hot oil until golden brown.
*Take some of the oil you use for pan frying, put it in another pan, add 1 tablespoon of tomato paste and fry it.
*Add some water to the pan and open the tomato paste.
*Add a teaspoon each of sugar, thyme, cayenne pepper and 1 pinch of salt to flavor the sauce.
*Add about half a glass of water.
*Put the meatballs in the sauce, cook for a while with the sauce and cover all the meatballs in the sauce.
*You can take the meatballs with the sauce on a plate and sprinkle parsley leaves on it and enjoy your Rice Meatball.